Casinos have been some of the most favorite ways of entertainment for decades since they have something for everyone, from slot machines to roulette and sports bettings. In terms of their offer, casinos have a lot in common, and many things are pretty much standardized. But when it comes to the uniform part, you can always strive to stand apart. Here are several requirements for the checklist to find the best uniform for your casino dealers staff.
1. Brand Identity
What is your brand personality? It's the picture you want people to have of your casino and everything related to it. It's also called brand identity, and it comprises everything from the color palette and logo to the overall ambiance of the casino rooms. Besides casino decor, casino uniforms are the second-best way to express the identity of your brand and set it apart among other casino brands.
Align your choice of casino uniforms with the general impression you want your customers to have related to your brand. If you go for the formal and upscale atmosphere, then casino dealers' uniforms should follow that kind of setting. If your casino decor is more laid back, croupiers' outfits should be more fun and easy-going. In case you want to bring up the ambiance of old casino times, such as art deco or some other period, have your uniforms fashioned in the same spirit. For an ultra-modern setting, have your casino outfits custom-designed and achieve a completely exclusive look.
2. Your Customers and Staff Expectations
Narrow down your choice to a few uniform styles and ask your long-time customers and club members for ideas. They might have better insight into what design is more appropriate than another from the customers' perspective.
The opinion of your dealers is also valuable. Don't look only for aesthetically pleasing clothes. The attire should be comfortable and practical, so make sure you take practical aspects into account. Also, keep in mind that these considerations dictate different choices for different positions and casino departments. It's certainly not a must to match all the uniforms from various departments. They should only look like they are part of the same design line with complementary colors and choice of fabrics.
3. How Much Do You Want to Spend?
Your budget can limit your choice. So try to find affordable outfits to match your bankroll without neglecting the quality. The uniforms should look professional and sharp no matter what style you opt for.
How to Select Casino Uniforms for Women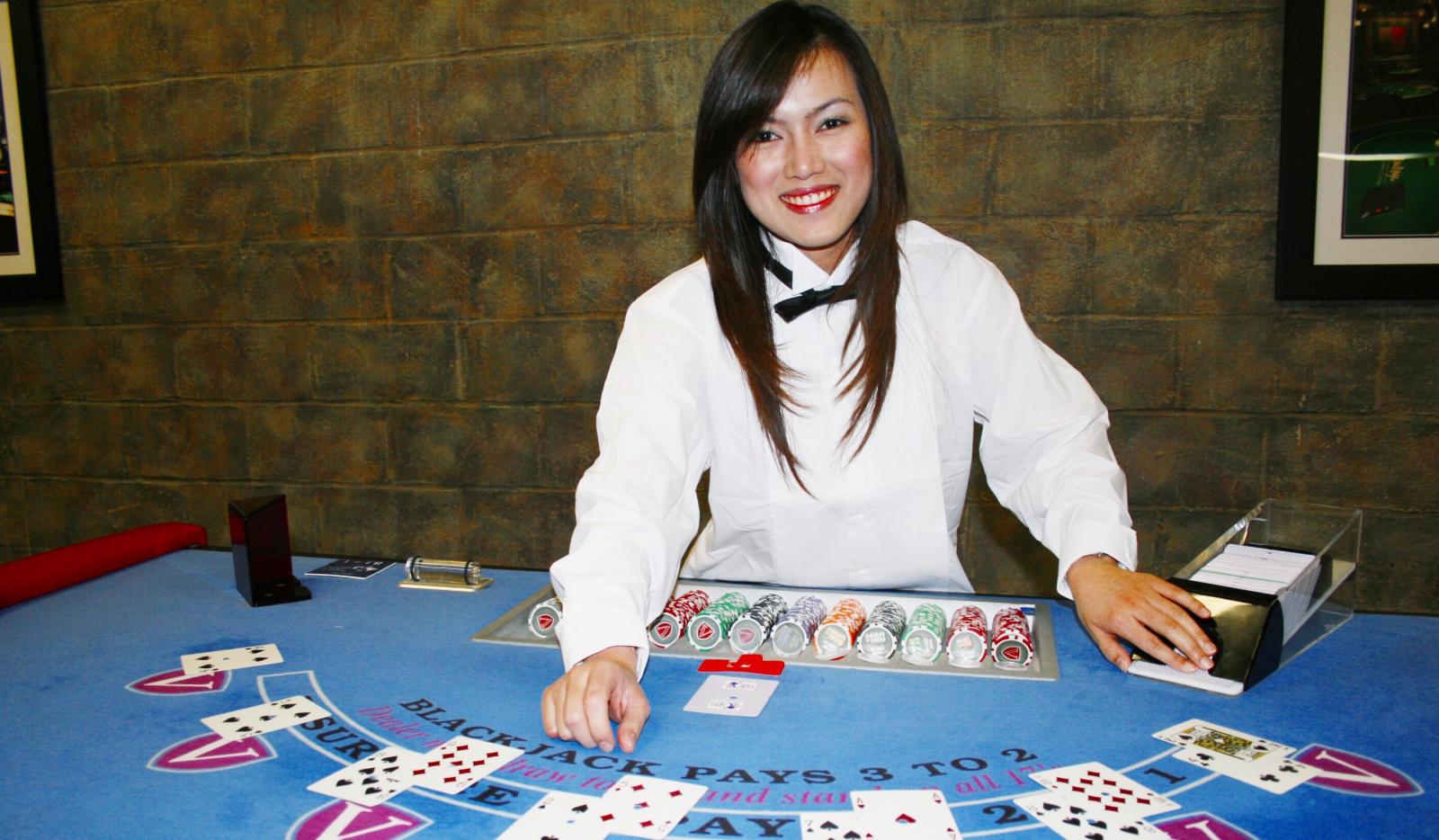 If you want to achieve a unique look for your female staff, and especially your dealers, you have much more freedom and choices compared to men's uniform. Depending on your casino theme, your brand identity, and your budget, opt for one of the following casino uniforms for women:
Flare pants combined with a long-sleeve V-neck blouse or simply with a sleeveless top in the red and black color combination;
A tuxedo skirt combined with a sleeveless shirt or white casual shirt;
Choose a poker dealer outfit in the form of a black corset dress decorated with red silk with the casino logo attached on the bust;
A backless vest combined with a long-sleeve shirt and a medium-long skirt paired with classic medium-heeled or flat black shoes;
Off-shoulder black dress combined with a bow tie and some classic shoes will do for a more casual but sexy outfit.
How to Select Casino Uniforms for Men
Customers' fashion has changed drastically over the years. There is a variety of trends from business casual to high-class luxurious style. Regarding casino dealer outfits for men, fashion has not changed that much, and it still favors the traditional style.
A black vest over a white shirt is a classic look that most casinos go for along with a bow tie and black shoes. If you want to set yourself apart from other brands, you will do it best by playing with different fabrics and colors. Move away from black pants and a white shirt by choosing an interesting pattern and a bit more daring colors.