There was a time when casinos were particularly strict regarding the players' outfits. Everyone had to be formal to be able to sit at a table. The men wore three-piece suits, and the women chose dresses worthy of the greatest American award ceremonies. 
Times have changed following the popularization of casinos and the ease of access their online counterparts provide. Casino outfits can now be more casual, but some effort is always required. You will probably not pass the door if you show up in Bermuda shorts, tracksuits, a tank top, or flip-flops, even if the casino is located in front of a beautiful beach. So if you're wondering what to wear to a casino the next time you decide to visit one, we will provide you with the answer in the following lines.
How Should I Dress for a Casino?
As we've previously mentioned, each casino has its own rules, so the dress code can vary from one establishment to another. Not all venues are alike — depending on the size of the casino and its location, you will not choose the same articles of clothing from your closet.
The first thing you need to do is find the casino you wish to visit on your favorite search engine — the larger and more luxurious the establishment, the stricter the dress code will be. In contrast, in small casinos, where the atmosphere is family-friendly, you can afford to wear just about any outfit.
As a general rule, men should opt for something suit-like and everything that closely resembles sneakers is banned. A T-shirt can be accepted if worn with a jacket.
For women, a pantsuit or a little black dress with a tuxedo jacket, a small clutch, and pumps will fit perfectly.
Sophisticated Casino Style
Elegance is the watchword for most casinos. Forget sneakers and caps, and instead, turn towards a suit of a somber color, such as dark blue, black, or gray. Add to that a white or light-colored shirt and loafers in similar tones. The ideal is to wear tones that match together well while remaining classy. All in simplicity, but with efficiency!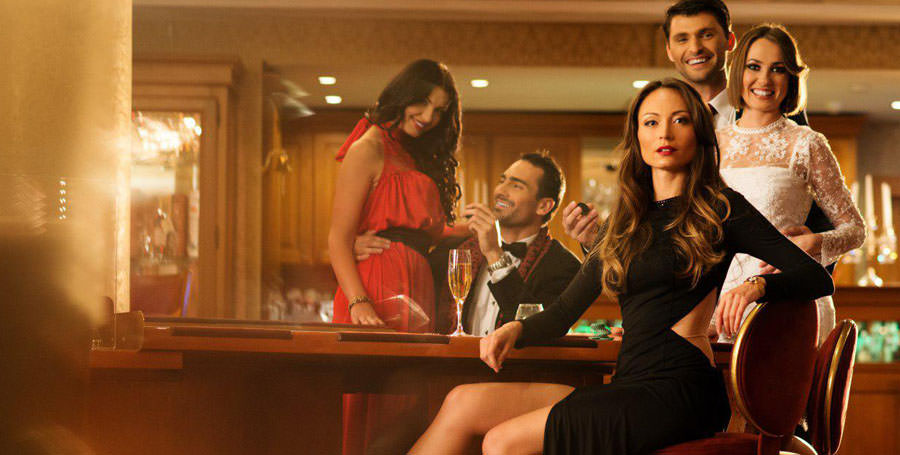 For you ladies, if you also prefer simplicity, we will recommend the classic piece that is a black dress. Long, short, or knee-high, a black dress never fails to meet expectations. However, avoid dresses that are too short or uncomfortable. The purpose of your coming is to have fun and relax — nothing worse than seeing your dress pulled up all evening because it does not want to stay in place. For accessories, a small pair of comfortable and elegant heels and a tiny clutch bag should be fine. You can choose the color that suits you best; however, don't go for something too flashy.
Can I Wear Jeans in a Casino?
Strict and rigorous dress code is not something that applies in all casinos. It is possible to go play some of your favorite casino games while wearing just a pair of jeans. You are, therefore, free to choose your favorite casino attire; however, as stated above, there are things to avoid. Do not look like someone who goes shopping at the local supermarket, or worse — someone who had just woken up. If you wear jeans, more classic shoes, and a little shirt are welcome to rebalance the outfit. Feel free to add a wristwatch as an accessory. The ladies can complete their outfit with some jewelry.
Is There a Dress Code for Casinos in Monte Carlo?
Although it is home to plenty of wealthy individuals, Monte Carlo doesn't have such a rigorous dress code. Nonetheless, if you plan on visiting any of Monte Carlo's spectacular casinos, adhering to the usual dress code will help you have an extraordinary and authentic casino experience. 
Due to its spectacular surroundings, Monte Carlo draws the attention of visitors from all around the globe. The French Renaissance style inspires the decor, while magnificent surroundings add to the overall splendid atmosphere. There is a vast choice of games to partake in like European Roulette, Texas Hold'em, Trente et Quarante, English Roulette, etc. Also, the panoramic scenery from Sall Blanche and Terrasse is breathtaking. 
At the Monte Carlo Casino, the dress code is practiced to preserve the establishment's traditional aura, dating back a century and a half. Proper casual attire is allowed within the "Salle de renaissance" and the "Atrium" from 9 a.m. to 2 p.m. "Salle Europe" allows casual wear from 2 p.m. to 7 p.m. But keep in mind that trainers, flip-flops, and ripped jeans are still not permitted. 
During the evening hours, sweatshirts, shorts, or any kind of sportswear are prohibited. The visitors, gentlemen, as well as ladies, are recommended to wear more sophisticated clothes. Monte Carlo Bay Casino, with its ultra-modern setting and state-of-the-art slots, offers an opportunity to play between 2 p.m. to 2 a.m. You'll be glad to hear that this casino doesn't enforce a strict dress code. Casual but smart casino attires are permitted on all parts of the casino floor.
Must-Pack Clothing Items for a Trip to a Casino
Finally, here is a list of must-pack items we made for you.
For Ladies
A conservative cocktail dress — we're not suggesting you follow the look of Nancy Reagan, but we advise wearing some type of elegant, not too revealing dress like you'd wear to a relative's wedding or birthday party. Black is always a great choice, but other colors are fine as well. In essence, you should try to match the color and the theme of the overall setting of your go-to casino.
A sweater to pair with your cocktail dress — don't overlook this piece of clothing since casino rooms can often be cold. Also, if you want to add a bit of formality to your cocktail dress, don't forget this part of the outfit.
A pair of flats — we would like to tell you that you can wear sneakers, but that wouldn't be a good idea. Go for a pair of flats that will be suitable for all settings, as well for your cocktail dress.
A blouse for day or night — as long casino adventures don't give you a place to change into something warmer, choose a smart plain blouse that can easily be matched with a dress and a pair of jeans. Consider the temperature issue — casinos can be both hot and chilly at times.
For Gentlemen
A pair of blue jeans — a pair of blue jeans is appropriate for most places in modern casinos. Punk rock relics and ripped jeans with safety pins don't count though.
Loafers — while sneakers are reserved for a plane or car, consider wearing some semi-casual shoes to make yourself classy and comfy at the same time.
Socks — most of the time, sockless shoes will be acceptable, but we recommend to check out the casino rules regarding this. Otherwise, chose dress socks to match with your loafers if you are heading to a particularly formal casino or a VIP area.
A button-down shirt — a plain white shirt is not mandatory. A patterned button-down shirt would be just fine. It is up to you to choose the length of the sleeves. In general, the classiest the venue, the longer the sleeves you will want to wear. Also, regarding short sleeves, in some cultures, it's exclusively work attire, so watch out not to be mistaken for an employee. Long sleeves are a generally better option unless the weather is sweltering like in Vegas.
Summary
Dress to impress has a different meaning from venue to venue, and your problem of what to wear to a casino is a thing of the past. In this article, we wanted to demystify the preparation process for the gaming floor. So if you take our advice, you'll be able to walk into any casino, from Las Vegas to Singapore, aware you are one of the best-looking gamblers in the room.